Vodafone officer wears tartan tam-o'- shanter, clutches bottle of Irn Bru, in breeze shared with company … right before Glasgow personnel told of redundo dates
Comms company 'seems incapable of communicating coherently to its workforce' A Vodafone exec was plastered on the telco's intranet dressed in a "See You Jimmy"* hat and clasping a bottle of Irn-Bru ahead of a meeting to confirm the redundancy dates for 312 Glasgow call centre staff. Antonio Shabbir, head of customer care at Vodafone,…
Comms company 'appears incapable of interacting coherently to its labor force'
A Vodafone officer was plastered on the telco's intranet dressed in a "See You Jimmy" * hat and gripping a bottle of Irn-Bru ahead of a conference to verify the redundancy dates for 312 Glasgow call centre staff.
Antonio Shabbir, head of customer care at Vodafone, and among the figures leading discussions with staff on the fate of their tasks, posed in a tartan cap with synthetic red hair connected to it for a pic shared on the firm's internal social media page by Voda's senior improvement manager, John Lowe, the other day.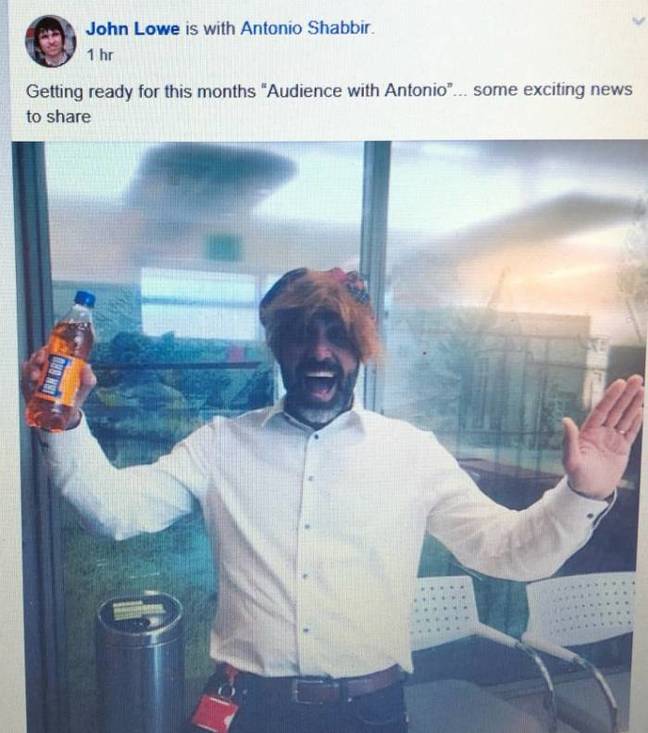 Clearly the post, and the timing of it, sparked outrage amongst staff that are currently smarting from previous errors made by the officer.
" The Glasgow team were actually all waiting at their desks to see which of the 3 redundancy tranches they were going to be placed in. The entire team is getting the bump," a Voda source told The Reg
" Lots of staff following the internal Vodafone Facebook page at work looked in shock at the insensitive, strange and uncertain message," our source included.
The call centre group was worked with to take care of customers of broadband service, but we are informed that this operation is being contracted out to Egypt, though Vodafone has yet to comment on this.
Vodafone remains in cost-cutting mode, rationalizing realty– years after its buy of Cable & Wireless— and will shutter 8 sites consisting of three in Bracknell, one each in both Manchester and Birmingham, along with 2 stores in Glasgow. 2,700 personnel have been asked to transfer to other locations, though for some this will not be practical.
Shabbir, who informed staff of their redundancies in January when El Reg exposed the company-wide restructuring, also made a gaffe last month– so our experts say– when he sent out an "all hands" email informing the whole Consumer Care group of raise from April. He incorrectly consisted of the at-risk Glasgow workers in this mass mailer.
" He's yet to apologise for that and most likely won't," one Glasgow employee said. "Obviously the continuous HR cases a few of the staff members have running now has extra fuel [after the incident on Facebook's Workplace intranet product]."
This is not the very first time in current days that Vodafone's social networks output has caused consternation among a few of the labor force: a paper survey that positioned Voda as the 29 th best place to work in the UK was distributed.
Staff are still waiting for a direct apology from Vodafone for the "See You Jimmy" pic. "We got no apology, no description … I've never worked within a communications business that appears so incapable of interacting coherently to its workforce."
Vodafone today sent out an apology to personnel through The Reg: "It was an internal event. No offense was suggested and we apologise unreservedly," a spokesman said.
" Our teams are currently spread out in smaller sized workplaces are the UK. We are moving some people into larger centres of quality throughout our customer, digital and innovation operations. This will affect 312 staff members currently based in our Glasgow office."
This will leave Vodafone with 410 workers in its Berkeley Square workplace in Glasgow and "more than" 500 at the partner customer care centre in Kilmarnock.
Vodafone made no remark about offshoring but insisted Glasgow will be "one of our primary 5G test beds". Scant consolation for personnel.
The business has also outsourced cloud shipment to IBM, as formerly revealed, though it will sell the services itself. ®
* A stereotypical tartan hat with phony ginger hair connected, so called because of its similarity to the outfit used by "CU Jimmy", a character produced by comedian Russ Abbott
Please follow and like us: